Congratulations!
Markus Suta won the award for the best short talk at the XIVth International Krutyn Summer School 2013 with the title "Optical Lanthanide Materials: New Horizons by Tailored Designs". He reported about recent results of his Ph.D. thesis concerning the huge influences that excitons and defects can have upon the luminescence properties of divalent lanthanides.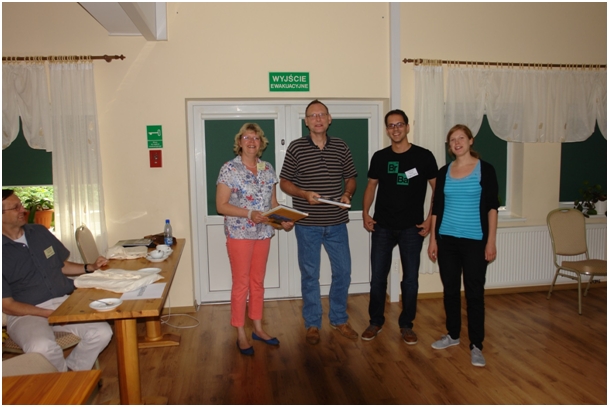 The directors Claudia Wickleder and Cees Ronda awarding the laureates for the best short talk, Markus Suta (University of Siegen), and the best poster, Leena Mattson (University of Turku) (from left to right)
Prof. Claudia Wickleder as a representative of the University of Siegen was one of the directors of the current summer school together with Prof. Marek Pietraszkiewicz from the Institute of Physical Chemistry at the University of Warsaw and Prof. Cees Ronda who is research fellow at the Philips Research Institute at Eindhoven and part-time professor at the University of Utrecht in the Netherlands and the University of Zhejiang.