Events (Lenzer / Oum)
"Hall of Fame" for the best "Kürzel" in our "PC-LAuN", "PCII-Kinetik" and "Physical Chemistry" final exams!
2023:    (best):             Call of Science,       Schrödinger's corona - without a test you don't know

                                    Mein Gehirn - Nur Standardbildung, dafür hohe Entropie :)



  

(runner-ups):             d[Nerven]/dt = Klinikg,  X-ray Skywalker.

                                    Answers here are quantised.

                                    W(examperiod in summer) = -PdV Work done under constant pressure

                                     Rahmen Spectroscopy, 

Q.M. - Quantum Maniac,



                                     U-NO, "Light" exam,

Raman Noodles



                                     Where are all the credit points? … I think they Argon.

                                     Chemistery and I don't know which reaction order the exam reaction will reach.

                                     Ist noch gebratenes λ? Nein, das φ ist noch ρ! (Chemistry joke..)


                                    

2022:    (best):              Mother kinetics, Son DGG, Daughter IGG,

                                     Der letzte Kinetik-Krieger,  d[Student]/dt = Exam+exam,

                                     IR spins me right round baby, right round like a rotor baby,  



  

(runner-ups):            

<Heise|n|berg>, 

EtOH keine Lösung aber Lösungsmittel, Kinemagier


  
                                   

May the [-kx] be with you,  

mc2instein, 

Heisennerd


 
                                   

exam phase - Milikan's tear drop experiment



                                                                    


2021:    (best):             

Pseudo 1. Versuch

,   d[Milch]/dt = Käse; ʃ Milch dx = Kuh,

                                     

Sherlock Ohms & Dr. Wattson: Den Leistungspunkten auf der Spur,



                                     Angriff der Kinetik-Krieger,   Molwurf, 

Boltzmann der deutschen National-Elf


         
                                      Der Reaktionsordnungshüter, Ah230123! (The Element of Surprise),

                                      Where is my 27Co6F26Fe75E?, Prokrastinium-295,   Ich bin DiR∞ dank(105Pa)!


         (runner-ups):       For Frodo (https://youtu.be/urLWtt93gAk)

                                    MeThanos, EC50, erreichte Punktzahl = 0 Q.S. !!!

                                     Science-man: Far From Hope,  Erfolg = PC2 / t1/2

                                     dc/dt oder die Abnahme meiner Konzentration über 3 h Vorlesung
                      
                                    

1 ANGSTröm

    

Born-Oppenheimer-Näherung zur 1,0

                                    


2020:    (best):             "Uni ↔ Freizeit (k1, k2): Relaxation in die Semesterferien", "52Te 89Ac 1H 68Er 1.0", "E = p c2"
                   (runner-ups):   "Käse-Maskeroni",   "Ja, das ist mein Nernst.", "Yes, Kinetik can!",
                                          "Quantensprung ins Unbekannte", "Quantenmechaniker",
                                          "Variablentrennung: das Gute vom Schlechten trennen", "Captain Arr-henius", 
                                          "HCOONa Matata"
2019:    (best):             "Periodic Table Dancer",   "19K53I10Ne22Ti19K",
                   (runner-ups):  "Quenchinator",   "Sadi Carnotfall", "Kinetophob",
                                          "Klausurausbeute", "Ekin = ∞", "Kinetisch relaxt"
                                          "Kiniedlich", "Physikosaurus", "Kinetosaurus-Rex", "Homo Physikochemiensis"
2018:    (best):            "Tunneling to 1.0",   "LD50", "PaniCII"  
                   (runner-ups):  "3.7" (bei der "Notenverbesserungsklausur"...),
                                         "Quantum Father",  "Mittlere Überlebensdauer", 
                                          "Quasibestandener Klausurzustand", "Brominator 2 - Die OC kommt",
                                          "Unwissender Padawan", "Kinetophilius", "Exmatrikulations-Inhibitor", "Cat-Ion"
2017:    (best):            "PCII-Kinecting People", "Meister Hydroxyl (nicht nur sauber, sondern rein)"
                   (runner-ups):  "Max Bodenstein II.", "Quasi-Farsium", "Quantenausbeutenmaximierer",
                                         "d[PC2]/dt", "E Ψ = n.b."
                                          "Lambert-Bier", "404 'Kürzel' not found", "Heisenburger", "Extinction of Lambert bears" 
2016:   (best):             "Kinetophil", "Say 'NO' to exam", "Neutron kitty"
                   (runner-ups):  "Der Lambertbär", "Koalabärbauchfellzipfelmütze", "Sklaventreiber der Atome", "Miss Explosion"
2015:   (runner-ups):  "Ω", "Chaospraktikant"
2014:   (runner-up):   "Mr. Kinetik"
2013:   (best):             "Dicker Sauerländer", "Staubsauger der Atmosphäre"
                  (runner-ups):  "Destoroyah", "Blaukittel", "total verstrahlt", "Gefangenennummer"
Group seminars
 Our next group seminars will be announced here.
Group dinners (Weihnachtsessen)
2022 (16.12.): Weihnachtsessen wieder im Yumini (nach 3 Jahren Corona-Pause...)
2018 (19.12.): Christmas dinner immer wieder im "Yumini"(10th Round!)
2018 (21.11.): Weihnachtsmarket in Dortmund after NRW-Nano conference  
2017 (05.12.): Christmas dinner again in Japanese Restaurant "Yumini", after visiting Siegen-Weihnachtsmarkt in "Unteres Schloss": Photo
2016 (06.12.): Christmas dinner in Japanese Restaurant "Yumini", after visiting Siegen-Weihnachtsmarkt: Photo
2015 (11.12.): Christmas dinner in Indian Restaurant "Namaste", after visiting Krönchen-Weihnachtsmarkt: Photo
2014 (05.12.): Christmas dinner in Bavarian Restaurant am Oberen Schloss, after visiting Krönchen-Weihnachtsmarkt: Photo
2013 (17.12.): Flammkuchen-Party in "Zum Alten Weinkeller"!
2012 (06.12.): "Nikolaus-Frühstück" with our "Werkstatt" and colleagues from "Dez. 5"!!!
Annual group excursion in Siegen: Our Motto "Unterwegs mit netten Menschen"!!!
2019 (13.08.) to ZOOM in Gelsenkirchen
2018 (05.10.) to Bottrop Movie Park:  Photo
2017
2016 (17.08.) to Würzburg: Photos
2015 (10.09.) to  Cochem: Photos
2014 to Hilchenbach "Breitenbach-Talsperre": Photo
2013
2012
2011 (04.10.) to "Krombacher Brauerei": "Wandertag 2011 The actual time plan: in German and in English. 
A typical (!) working day in Siegen with "Werkstatt"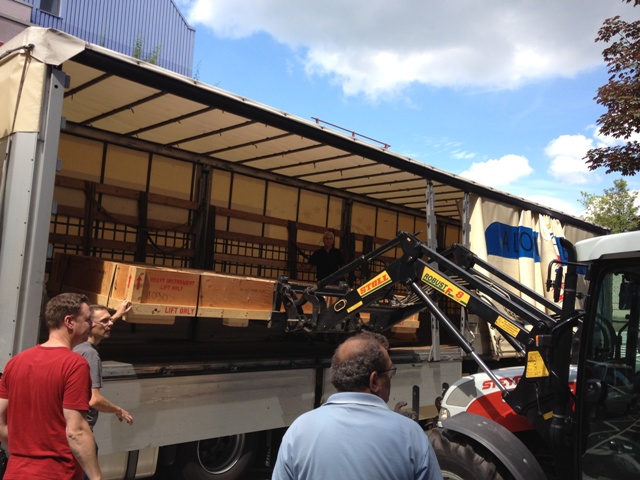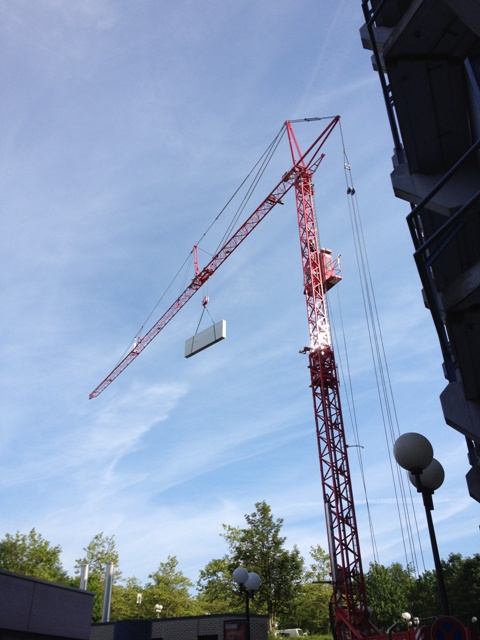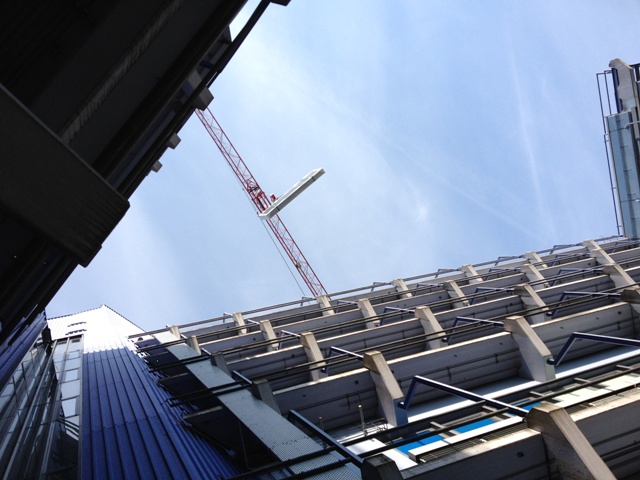 SPP1191 "Ionic Liquids":
 - DFG-SPP1191 Summer School, "Spectroscopic Studies on Ionic Liquids", Burghotel Schnellenberg, Attendorn, 16-19.08.2010. 
    Local organizers: Thomas Lenzer and Kawon Oum
 - DFG-SPP1191 Workshop, "Biomoleküle in Ionischen Flüssigkeiten: Synthese, Strukturaufklärung, Biologische Aktivität", Swisttal-Heimmerzheim, 12.-14.09.2011.
- DFG-SPP1191-Main Meeting, Fürth, 28.-30.11.2011.
Tag der Chemie (24.09.2011)
 Wir joined the "Tag der Chemie"-event of the University of Siegen in 2011, with a presentation on 
 "Vortrag zur Physikalischen Chemie: Mit dem Lichtschwert im Chemielabor" (see a photo...).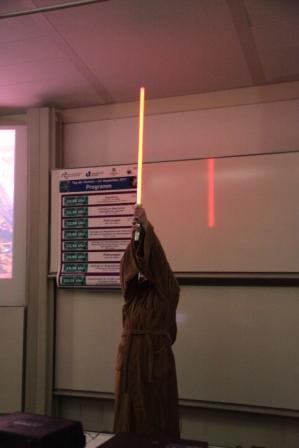 Here is an article from a local newspaper (Reporter: Sabrina Fuchs)
Something to celebrate together...

ACS Prize for Oliver Flender (16.12.2014):
Alumni-Club Chemie Siegen zeichnet die besten Bachelor- und Master-Studierenden für ihre Leistungen aus.
Stammtisch of the group members

 as always, as you know, Friday nights after our "usual" "hard" working in the lab, "Stammtisch" is possible...