Arbeitsgruppe Prof. Dr. Holger Schönherr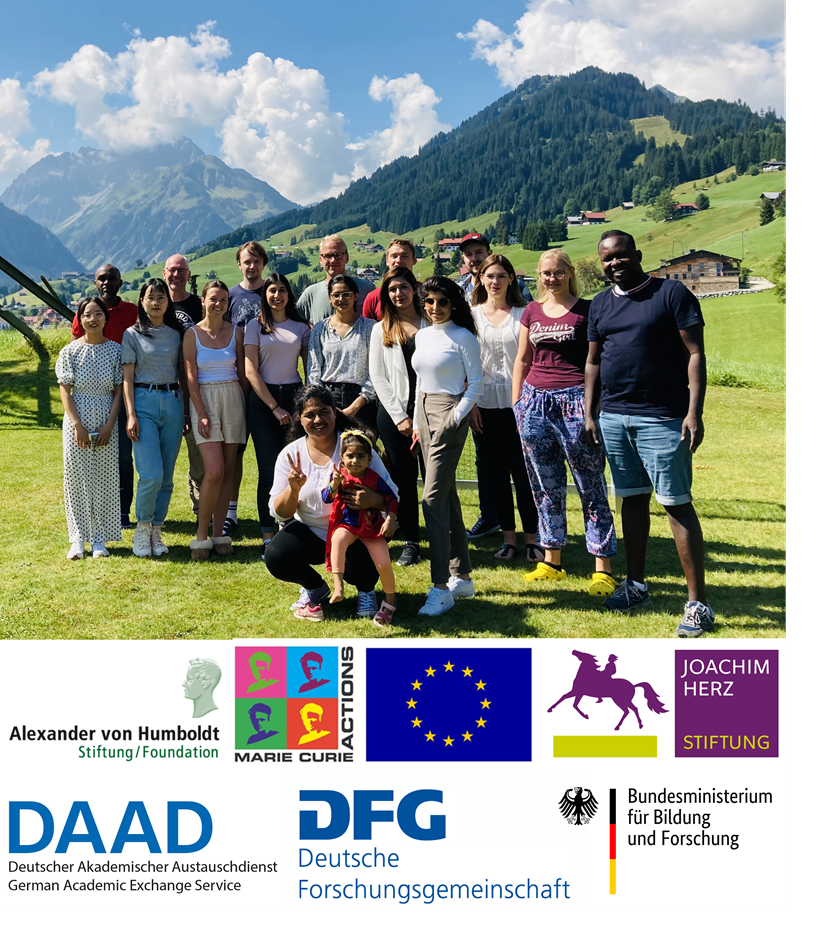 ---
---
Universität Siegen
Physikalische Chemie I
AR-F0103
Adolf-Reichwein-Str. 2
57076 Siegen

Tel.: ++49 (0)271 740 2806
Fax: ++49 (0)271 740 2805

---
---
Chemie und Physik von Biogrenzflächen
Selbstorganisierte und
Nanostrukturierte Polymersysteme
Molekulare Eigenschaften und Dynamik
in begrenzten Dimensionen
Oberflächenanalyse mittels
Rasterkraftmikroskopie

Aktuelle Projekte




Macromolecular Engineering of Surface-Grafted Polymer Brushes

- Team Projekt PL, 2016 - 2018 (P.I.: Prof. Dr. Szczepan Zapotoczny, Jagiellonian University in Kraków, Faculty of Chemistry, Poland).

Theranostik gegen bakterielle Infektionen,

DAAD Project PPP Frankreich 2017, Partner: University of Brest, 2017 – 2018.

Integrierte digitale Diagnostik mit intelligenten Sensormaterialien für die Versorgung im ländlichen Raum (INTEGER),

DIVE Project (Digital unterstützte medizinische und finanzielle Versorgung der Bevölkerung im ländlichen Raum), Sparkasse Siegen, 2018-2019.

Bionano-Summerschool – Diagnostische und therapeutische Materialien zur Bekämpfung bakterieller Infektionen,

Joachim Herz Stiftung, "Begegnungszonen", 2018.

Development of 2.5 D and 3 D nano hybrid scaffolds for regenerative medicine (tissue engineering) targeting: (i) bone regeneration in ageing adults (ii) skin regeneration in diabetic wound treatment - Tertiary Education Commission (Mauritius), Interdisciplinary/Inter-Institutional Team-based Research (2018-2023), P.I.: Prof. Dr. Archana Bhaw-Luximon (CBR Mauritius).

Fusion of core-shell capsules serving as model nanoreactors, FUSION-CAPS,

DFG Beethoven 3 Classic Projekt (Partner: Prof. Szczepan Zapotoczny, Jagiellionian University Krakau, Poland), 2020 – 2023, DFG SCHO1124/6-1.

Verfahren zur selektiven Trennung und Reinigung von Zellen (SelectCells)

, NRW‐Patent‐Validierung, EFRE-0400308, 2020 – 2022, Local partner: Dr. Mareike Müller.

Nanoparticle-based Point of Care Detection of Antibiotic-Resistant Bacteria (NAPARBA),

BMBF, FKZ: 01DP20005,

Project coordinator: Holger Schönherr,

Partners in Istanbul and Djakarta, 2020 – 2023. https://www.naparba.de

Stimuli Responsive Materials for the Rapid Detection and Treatment of healthcare Associated Infections (STIMULUS ),

Marie Skłodowska-Curie Innovative Training Network Project (GA: 955664), 2020 – 2024. https://www.stimulus-etn.eu/

Zielgerichtete Bekämpfung pathogener Bakterien in der Lunge durch photodynamische Therapie, TARGET-THERAPY

– Neue Polymerträger und Wirksamkeitsstudien (BMBF, FKZ: 16GW0342), Projekt mit Frankreich im Programme DF-AMR.2, 2021 – 2024, Project coordinator: Holger Schönherr, Partners: University of Brest and University of Reims. Local partners: Dr. Mareike Müller, Prof. Dr. Uli Jonas. https://www.target-therapy-project.eu

Entwicklung von Naturstoffderivaten für die fluorimetrische DNA Detektion in Zellen,

DFG Normalverfahren (Paketantrag mit Prof. Dr. Heiko Ihmels, OC-II). 2021 – 2023, SCHO 1124/7-1.

Neue diagnostische und therapeutische Ansätze und Materialien zur Bekämpfung von Pathogenen,

Interdisziplinäre Nanobubble – Nanointerface Summerschool 2021 für Doktoranden und Postdoktoranden, 2021, Joachim Herz Stiftung, "Begegnungszonen", postponed to

August 2022.

Development of theranostic hybrid materials for the treatment of cutaneous Leishmaniasis – Leishmacure,

BMBF "Programme Advocating Women Scientists in STEM" (PAWS), Förderkennzeichen: 01DG21034,

Project coordinator: Dr. Mareike Müller,

2021.
---
Former / Older Research Projects
---
---
Sekretariat





Sandra Johnson

Tel.: ++49 (0)271 740 2804

Fax: ++49 (0)271 740 2805

Technische Mitarbeiter





Dipl.-Biol. Sabine Wenderhold-Reeb




Forschung und Administration





Doktoranden

(Mitmachen? Infos hier!)



M.Sc. Willis Collins Akeyo Muganda

M.Sc. Ratka Trifunovic (extern)

M.Sc. Jens Wunderlich (extern)

M.Sc. Pan Xu

M.Sc. Maximilian Podszun (extern)

Assoziierte leitende Wissenschaftler

Dr. Mohammad Raoufi

Postdocs und aktuelle Besucher




Sonu Kumar (Alexander von Humboldt fellow)




Bachelor- und Masterstudenten





B.Sc. Farhana Tausmin Shefat

B.Sc. Svea Marie Stepping

B.Sc. Chao Zhang

B.Sc. Adams Kithinji

B.Sc. Omaima Koutit

B.Sc. Jonas Schupp

B.Sc. Andreas Jagic

Etienne Stens



---
Absolventen und Ehemalige
Mitarbeiter aus Technik und Verwaltung
Hanne Christian, Rose-Marie Neidhardt, Brigitte Niesenhaus
Bachelor
Christian Fuchs, Christoph Thiel, Inga Lilge, Marc Steuber, Sven Sidenstein, Manuel Roesener, Benedikt Steinhoff, Anna Schulte, Dimitri Jung, Angelos Ntovas, Bahareh Ebrahimi Pour, Diana Hebel, Melanie Baumgartner, Joshua Schumacher, Michael Greiter, Renée Sophie Hoffmann, Désirée Schütz, Jonah Leon Decker, Jonas Frohne, Daniela Nordhoff, Andreas Jagic
Master
Haider Bayat, Regina Fuchs, Safaa Abdulhussain, Yizhou Chen, Ludmilla Steier, Christian Weimer, Xin Bo, Katrin Tücking, Sven Sidenstein, Inga Lilge, Stephanie Müller, Christian Schragen, Marc Steuber, Alyaa Wdaah, Qasim Alhusaini, Siju Jiang, Cleiton Kunzler, Shiyu Zheng, Lu Pengyu, Hossameldeen Sharaf, Jingjing Li, Malvina Asad, Maqsad Suriev, Zhiyuan Jia, Qimeng Song, Benedikt Steinhoff, Bishoy Khairalla, Saniya Fazuldjanova, Manuel Roesner, Malika Nischal, Muhummad Ali Mahmoud Alzaitoun, David Stephan (extern: AG Nöll), Anita Akbarzadeh, Issa Sukker, Sabine Großhans, Meirong Li, Anna Schulte, Dimitri Jung, Rene Hirz, Jonas Hölzer (extern), Rafael Trivella Pacheco da Silva, Sebastian Richter,Yikai Shi, Max Müller, Jens Wunderlich, Walter Sebastian Scheld, Mengdi Zuo, Birgyl Kruezi, Christian Ogiemwonyi, Bahareh Ebrahimi Pour, Winny Chelangat (Dedan Kimathi University of Technology (DeKUT), Kenia; Erasmus+ - student), Md Rabiul Hossain Chowdhury, Kawaljit Kaur, Aysha Awan, Ankit Devani, Shanshan Zhang, Nigar Hajiyeva, Kausain Akther, Rong Li, Angelos Ntovas, Tunzala Asgarova, Ece Gaymali, Muzaffar Maksumov, Ankita Das, Ahmed Elmeligy, Renée Sophie Hoffmann, Joshua Schumacher, Yash Bhatia, Jonah Decker, Shivani Shivaprakash, Wycliffe Opiyo, Shivani Shivaprakash, Michael Greiter
Ph.D.
Dr. Sascha Pihan, (Dr. Ralph Kipping, Analytical Chemistry), (Dr. Aly Hafez, Analytical Chemistry), Dr. Mohammad Raoufi, Dr. Simon Haas, Dr. Wiktoria Walczyk, Dr. Ekram Wassel, Dr. Nicole Hain, Dr. Stephan Wang, Dr. Mir Morteza Sadat Ebrahimi, Dr. Sven Sidenstein (extern, MPI Göttingen), Dr. Inga Lilge, Dr. Katrin Tücking, Dr. Marc Steuber, Dr. Ping Li, Dr. Stephanie Müller, Dr. Imad Zamrik , Dr. Dominik Ehm (extern, mit Prof. Witte, Biologie), Dr. Qimeng Song, Dr. Siyu Jiang, Dr. Benedikt Steinhoff, Dr. Haider Bayat, Dr. Meng Qi, Dr. Zhiyuan Jia, Dr. Hongsuh Choi, Dr. Anna Schulte, Dr. Dennis Njuguna, Dr. Khoushanee Madhub (extern,University of Mauritius), Dr. Mengdi Zuo, Dr. Fanfan Zhang
Postdocs
Dr. Elena Sperotto, Dr. Davide Tranchida (Humboldt Stipendiat), Prof. Dr. Yi Zhou, Prof. Dr. Bo Song (Humboldt Stipendiat), Dr. Bei'er Lyu, Dr. Daniel Wesner, Dr. Yvonne Voss, Dr. Nowsheen Goonoo (Humboldt-Stipendiatin), Dr. Rafal Poreba, Dr. Xiaoqiu Dou (Humboldt-Stipendiatin), Dr. Ertan Yildirim, Dr. Mohammed Raoufi, Dr. rer. nat. Daniel Wesner, Dr. Dipankar Das (Humboldt Stipendiat)
Besucher
Zian Tang (TU Dresden); M.Sc. Sina Ghassemi (University of Twente, NL); Dr. Jordi Diaz (University of Barcelona); Dr. Somayeh Mohamadi (University of Teheran, Iran); Prof. Dr. Sagar Pal (DAAD Gastdozent, Indian School of Mines, Dhanbad, India); M.Sc. Ayse Karagöz (Özyeğin University, Turkey); M.Sc. Fransiska Sri Herwahyu Krismastuti, Mawson Institute, University of South Australia, Adelaide; M.Sc. Josh Cottom, University of Leeds, UK, Department of Physics and Astronomy; M.Sc. Jess Bean, (University of Bath, UK, Department of Chemistry), funded by a DAAD stipend; M.Sc. Yeshma Jugdawa (ANDI Centre of Excellence for Biomedical and Biomaterials Research, Reduit, Mauritius); Morteza Hasanzadeh Kafshgari, Mawson Institute, University of South Australia, Adelaide; Chia-Hua Lin (National Chiao Tung University); Patricia Enrique (CSIC, Madrid, Spain); Jessica Patzelt (Jugend Forscht! - Gymnasium am Markt, Bünde), María del Rosario Agustín, Samira Eisazadehrazlighi, Celestine Kathure Kinyua, (Erasmus+, Dedan Kimathi University of Technology (DeKUT), Kenia), Ayub Omondi Owino (Erasmus+, Dedan Kimathi University of Technology (DeKUT), Kenia)